2 July 2020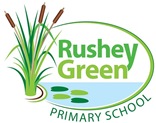 June 2020
Dear Parent/Carer,
We are now getting close to the end of term and we are preparing for the new year in September.
We have high expectations of our children when it comes to their personal appearance and I'm pleased to say that the vast majority are very smartly dressed and wear their uniform with pride.
It is thanks to the support of our parents and carers that standards remain high and this is something regularly commented on by our visitors.
This letter is to remind our children and their family of the dress code at Rushey Green. Further details, including where to buy the uniform, can be found on our website. If you are in any doubt, please do not hesitate to contact the school office and we will be happy to assist.
If a child's appearance does not meet the expected standard, the class teacher will talk to the child and then notify parents if there is no change. Where appropriate, a child who is not wearing the correct uniform may be asked to wear a replacement item provided by the school until the end of that day.
Jewellery, makeup and hair styles also form part of our dress code. Students are permitted to wear one pair of small earrings and a watch. Other jewellery are not permitted and children will be asked to remove them.
Please see our full uniform list below:
Thank you for your continued support and I wish you all a safe and enjoyable summer break.
School Uniform is for all children from Nursery to Year 6:
Green sweatshirt/cardigan with school logo (sold at Whitehall Clothiers Lewisham);

White shirt or polo shirt (with a collar);

Grey skirt or grey pinafore dress;

Grey trousers or grey shorts;

Green/Grey hijab;

Green and white check summer dress;

White/grey socks or tights;

Grey jogging bottoms (Nursery only);

Flat, black sensible shoes - (no logos/black trainers/crocs or open toed sandals/flip flops/high heels);

during winter months, children may wear wellington boots to school but these MUST be

stored in a bag and indoor shoes worn whilst inside the building;

Rushey Green Book Bag.
P.E. Uniform is for all children from Reception to Year 6
green shorts (sold at Whitehall Clothiers Lewisham);

Plain white t-shirt - no logos;

Black tracksuit for outdoor winter activities;

plimsolls/trainers

Rushey Green drawstring bag to keep these in at school.
PE Kit should be worn for After School sporting clubs.
All PE kits should be free from any logo or brand name, apart from the school logo.
Jewellery/Headwear/Nail Varnish/Makeup
On health and safety grounds, we do not allow children to wear jewellery to school (except for small studs and watches). We do not allow headwear to be worn during class time or inside school buildings, except for religious or medical reasons. If your child does need to tie their hair back, hair bands, ribbons or any other hair ties should be green in colour to match the school colours.
We also do not allow makeup or nail varnish to be worn at any time during school.
All clothing should be clearly labelled with your child's name. This is especially important, as uniform items look similar and can easily be confused for another child's. The school cannot accept responsibility for any lost items.
Yours faithfully,
Mrs. Lisa Williams
Headteacher